ITAD Management: How the IT Asset Disposition Process Works
To understand why ITAD and medical equipment asset disposition (MEAD) are so important, we must first grasp the sheer volume of the problem at hand. We live in an increasingly digitized world. Information technology collects, stores, and exchanges electronic data of all kinds. That technology progresses and grows every day, as does consumer demand. However, our reliance on technology comes with a considerable downside. Over 50 million metric tons of e-waste is generated globally each year.
As the pace of both production and consumption grows, we're left with a question. What do we do with the enormous amount of obsolete electronic equipment? Information technology assets that have reached the end of their useful life must be disposed of or recycled in a responsible manner. ITAD services keep sensitive data and information secure from hackers and those with criminal intent.
Beyond security, safe and effective disposal of electronic equipment is essential to the health of the environment. Society must learn to balance the convenience of technology with ecological concerns. To that end, proper IT asset destruction and/or recycling is essential.
IT Asset disposition, or ITAD, is the process of responsibly disposing of outdated and unused IT assets. Even if you're not a data center, your organization almost certainly relies on technology to some degree.
Unfortunately, that equipment eventually becomes outdated and obsolete. Companies must decide what to do with tech for which they no longer have room or need.
But that equipment isn't trash, and can't be discarded as such. Outdated IT tech is still a company asset. Additionally, it contains valuable information that could wreak havoc in the wrong hands.
That means these devices must undergo data sanitization before being recycled or properly destroyed.
But how do you do that effectively, without compromising sensitive information? And how do you know which pieces of equipment can be monetized via recycling, and which must be destroyed?
When you partner with a certified ITAD company, your old IT assets are in the hands of industry experts.
The ITAD industry is committed to responsible asset disposal. Companies like GCI provide proven expertise in both security and environmental concerns.
The ITAD process ensures complete data destruction while keeping obsolete electronic equipment out of landfills. Our goal is to protect the earth while improving risk management for our clients.
Once an IT asset is removed from a network, it is at higher risk for data breaches. Professional asset disposition services are committed to the protection of your assets. From the moment they leave your facility until they arrive at ours, security is the top concern.
Secure transport ensures chain of custody. That means you can rest assured that no information will be compromised.
Once in our processing facilities, GCI audits every piece of equipment received to capture serial numbers, brands, models and configurations.
All asset tags identifying the owner of the equipment will be removed and destroyed prior to recycling or remarketing.
Once this audit is complete, a complete inventory is created. The audit is sent to the customer along with hard drive wiping reports and certificates of compliance.
Data protection laws are in place to secure devices and equipment. Failure to comply with these regulations and requirements can mean serious business penalties or litigation.
With a certified ITAD company, data erasure is completed in accordance with NIST 800-88 guidelines using advanced technology and equipment.
The National Institute of Standards and Technology (NIST) states there are three types of data erasure:
Overwriting – this method of data sanitization uses a software to replace sensitive data with 0s or 1s or non-sensitive data.
Block Erase – this method works with certain types of data or storage media. It erases or purges flash memory-based block.
Cryptographic Erase – this method of erasure is used on devices that have a built-in data encryption feature or features.
To protect client data, GCI performs these proven processes to protect data-bearing devices during the IT asset disposition process.
Before disposing of IT assets, it's important to explore all options for reuse. This helps maximize asset value and improve ROI. It also acknowledges the finite nature of valuable raw materials and resources.
With an eye toward asset recovery, our goal is responsible recycling. We aim to turn everything we collect into a reusable stream of components or commodities.
When remarketing/reuse isn't feasible, responsible ITAD must comply with all EPA guidelines and regulations for handling e-waste.
GCI is an R2 certified company that assures the proper handling of electronic equipment.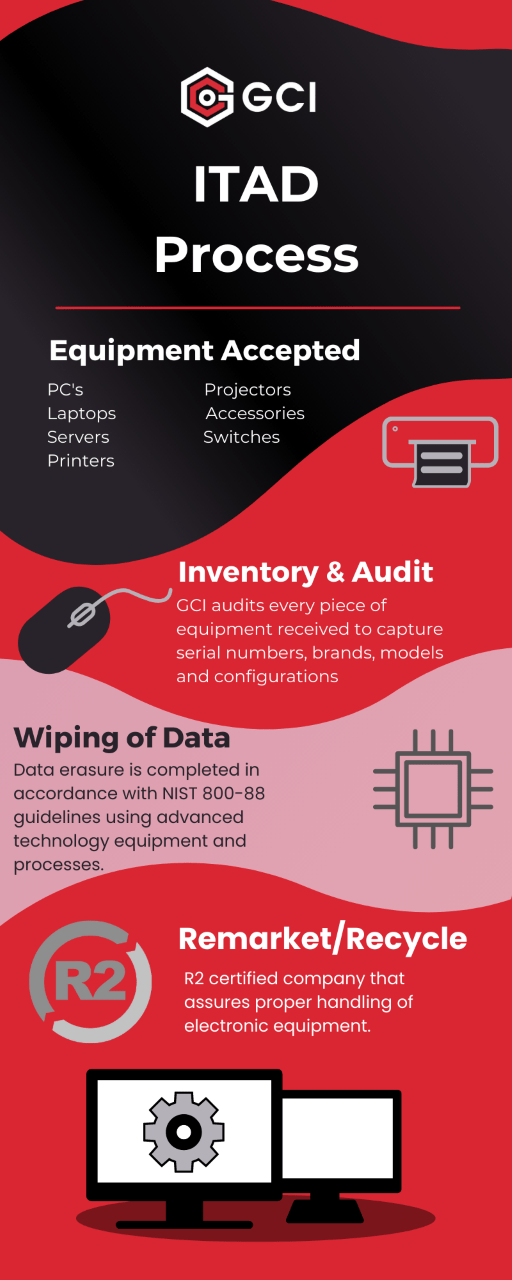 MEAD: Medical Equipment Asset Disposition
Evolving and progressing technologies in healthcare have enabled providers to care for patients at an optimal level. However, the emergence of new technologies also means that current products and equipment will soon be obsolete.
Like any other tech, electronic medical equipment must be safely and securely disposed of at the end of its life cycle.
Every computer, storage system, tablet, smart phone, and larger imaging equipment risks exposing vital patient health data.
Data integrity is a persistent issue in the healthcare field, posing threats to both the providers and patients.
Data recorded onto medical equipment ranges from test results to health histories. That makes it vulnerable to targeted breach.
Some equipment may also be considered a biohazard due to contact with human tissues or fluids. This means that medical equipment cannot simply be put into a dumpster. Certified data destruction services manage the entire medical equipment asset disposition process from start to finish. This allows clients to do what they do best – take care of patients.
As with other forms of IT assets, GCI audits every piece of medical equipment received. The audit captures serial numbers, brands, models and configurations.
We provide on-site data destruction, which is especially important when dealing with highly sensitive data. This provides our clients peace of mind that the medical equipment is completely destroyed before leaving the premises.
If on-site destruction is not an option, we also provide offsite destruction within a secured location.
Both on-site and offsite data erasure is completed in accordance with HIPAA guidelines, securely destroying confidential health data. Once the destruction process is complete, GCI will provide a certificate and a detailed audit report. This report accounts for all devices and equipment, ensuring accurate records.
After the data is secured, the question is what to do with the equipment itself. GCI adheres to a zero-landfill mission. Whenever possible, obsolete equipment will be resold or recycled according to R2 certified protocols.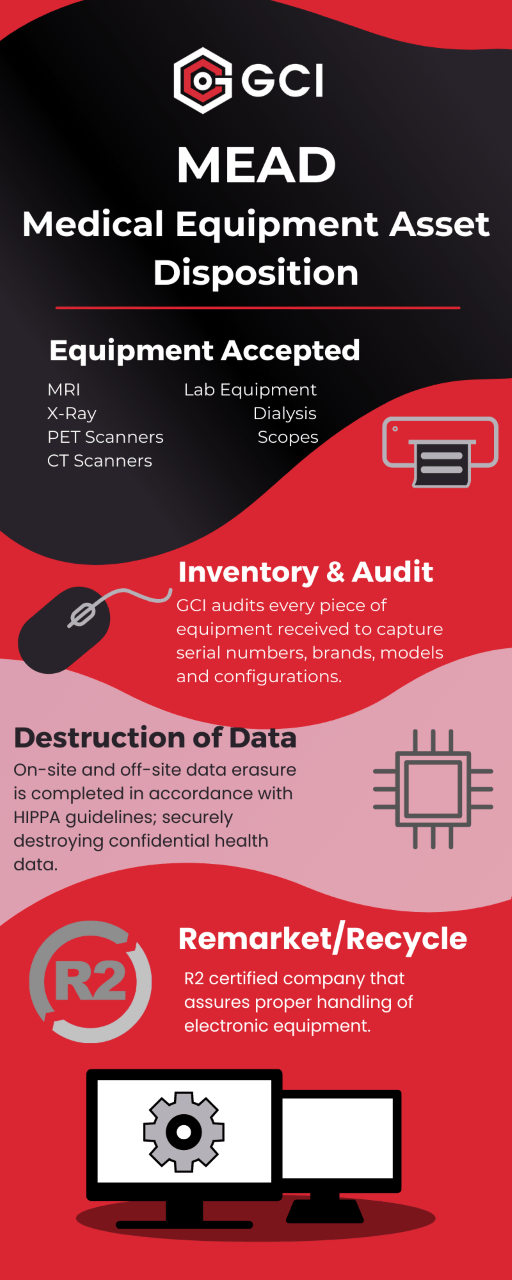 If you have questions about ITAD